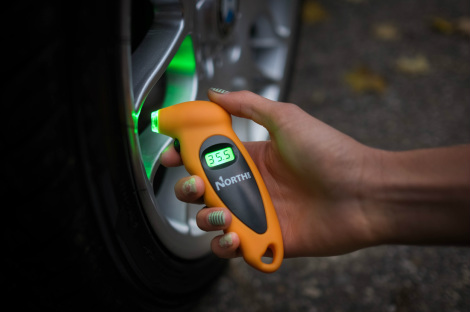 NorthONE™ Digital Tire Pressure Gauge
Increase Fuel Economy, Tire Life, Handling and Safety by Monitoring and Maintaining Tire Pressure Regularly

High visibility backlit digital display is quick, accurate and easy to read, day or night. Bright LED Lighted Nozzle for low light conditions

4 settings provide tire pressure in PSI, Bar, Kpa, or kg/cm

Simple One Button Design to Power on/off and Select Mode

100% Satisfaction Guarantee


Experts recommend checking your tire pressure at least monthly, and it's never been easier than with the NorthONE™ Digital Tire Pressure Gauge. Simply remove the cap from your valve stem, press the trigger-button once to power-on the gauge and press firmly against valve stem. Your tire pressure is instantly displayed and stays on screen for 30 seconds after reading and by clicking a button it allows you to read measurement as PSI, Bar, Kpa or kg/cm.
SAFETY
Low tire pressure results in decreased fuel economy, poor tire wear, poor vehicle handling and can be dangerous. Auto and tire manufacturers recommend you frequently monitor your tire pressure and maintain it to their specifications.
CONVENIENCE
The perfect size to keep in your glove compartment or tool kit with easy one-touch, power-on and select mode. The display is back lighted with a LED lighted nozzle that makes it easy to locate valve stem, and easy to read day or night while keeping your tire-pressure reading for an extra 30 seconds. Auto-off in 30 seconds to preserve battery life.
Bonus: High-visibility orange color - find it when you need it!
SATISFACTION GUARANTEE
If for any reason you are not satisfied with your tire pressure guage return it through Amazon.com for a full refund or contact us at NorthONE.us.
BATTERY REPLACEMENT:
The NorthONE Tire Gauge comes with batteries installed which will last a considerable amount of time with normal use.
If necessary batteries are user replaceable with a small philips screwdriver and minimal effort. Simply remove the screws from the back cover and gently separate the halves of the gauge. Batteries required are 1 CR2032 type and 3 LR44 type.
SPECIFICATIONS
Provides pressure as PSI, Bar, Kpa, or kg/cm

Requires 1 CR2032 and 3 LR44 Batteries (Included)

Monitor Pressure from 0.5-100 PSI in 0.5 PSI increments

30 Second Auto Shut Off - Or Hold Button for 2 seconds

Operating temperature -5° to 50°C (23° to 122° F)

WARNING: Always read and follow auto and tire manufacturers guidelines for tire inflation.
Click HERE to Order
---